Ultra-wide angle with aperture F1.4
Developed for starscape photography
Manual Focus Lock Switch (MFL)
Dust and Splash Resistandt Structure
Aperture ring
Tripod socket
Lens Heater Retainer
Rear filter Holder
Made in Japan

In Stock
The world's first and only* lens that combines an ultra-wide angle of
14mm with a maximum aperture of F1.4.
All for the best starscape photography.

The stars in the sky are a source of inspiration for viewers. On the other hand, the starry sky is a very demanding subject for a wide-angle lens, with its numerous tiny point light sources spread over the entire image. The 14mm F1.4 DG DN | Art is the world's widest F1.4 single focal length lens*, born from our engineers' passion for capturing the widest, brightest, highest-resolution, and most captivating starry sky possible. Thanks to SIGMA's latest technology, the lens combines an ultra-wide angle of 14mm with a maximum aperture of F1.4. In addition, SIGMA's lens technology has achieved high optical performance with thorough correction of sagittal coma flare, specialized functions to support starry landscape photography, and high-speed AF with HLA (High-response Linear Actuator) linear motor.
*Excluding fisheye lenses, as interchangeable lenses for mirrorless cameras and SLR cameras (as of June, 2023 by SIGMA)
The Milky Way stretching across the night sky, twinkling stars emerging over ridgelines―The 14mm F1.4 DG DN | Art can make this a reality as a pictorial image that surpasses the actual photographic experience. Its proven ability in shooting starscapes will provide new possibilities for visual expression and enjoyment in all scenes, including daytime landscapes, architecture, and
indoor photography in dark and confined spaces.
Thorough aberration correction
9 elements in 15 groups, including 1 SLD glass element, 3 FLD glass elements, and 4 aspherical lens elements, make up a luxurious lens configuration. Advanced aberration correction is achieved at maximum aperture,throughout the entire image, and with emphasis on infinity focus,tailored for starry night scenes. In particular, sagittal coma flare, which distorts the shape of stars, has been carefully corrected.
Ghosting and flare are also thoroughly addressed through both optical design and coatings. This allows for clear, crisp shooting of starry sky and night scenes. Optimized for starscapes, which require extremely high performance, this lens delivers images that exceed expectations in any scene, including landscapes, architecture snapshots, portraits, and indoor photography.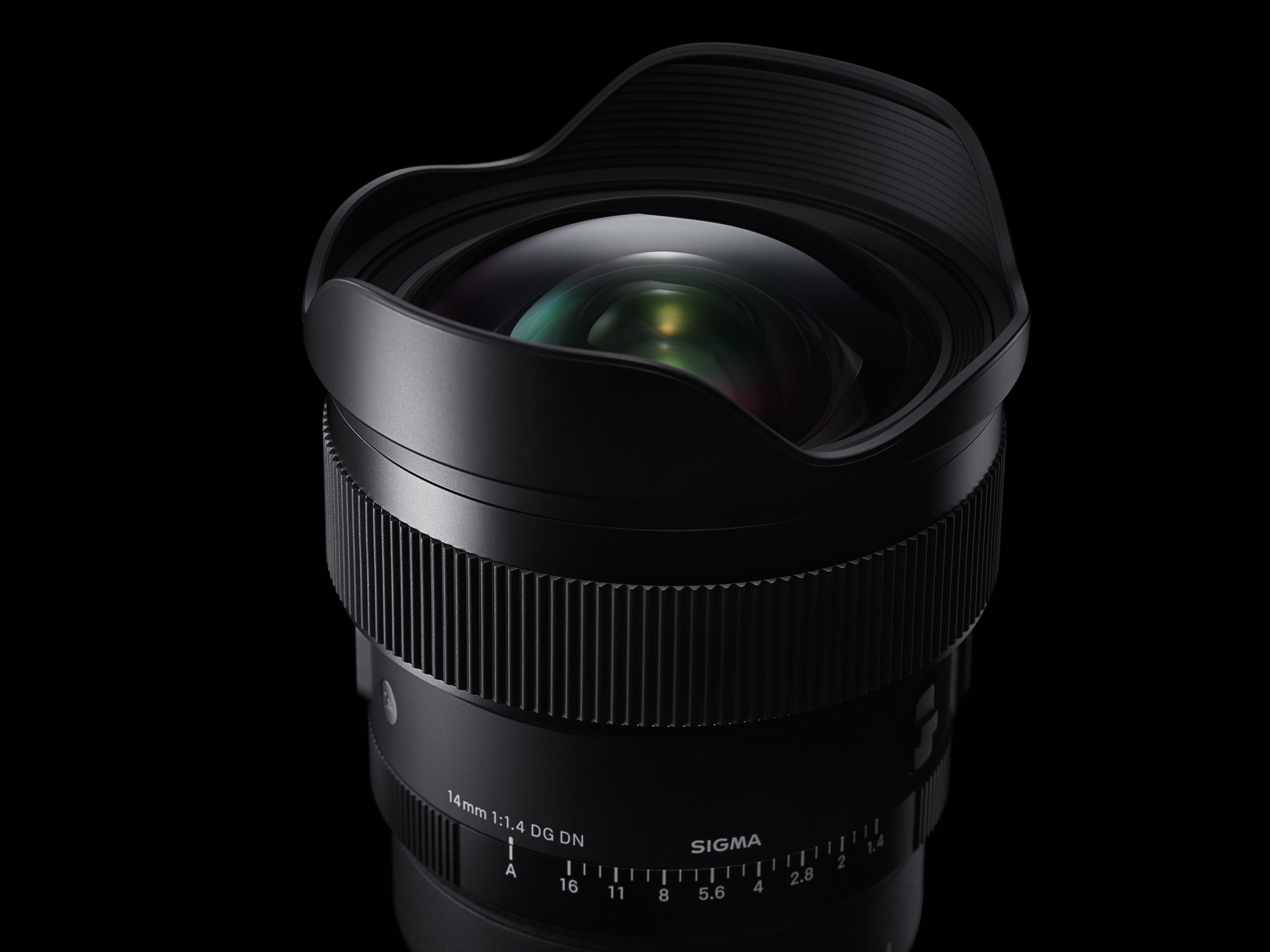 Functions and accessories to support starscape photography
Tripod Socket
Includes a detachable tripod socket compatible with Arca-Swiss type. As the 14mm F1.4 DG DN | Art is heavier on the front side, attaching the tripod socket helps it mount on a tripod in a more stable way. The shape is designed to prevent interference even when using the lens heater.
MFL (Manual Focus Lock) Switch
A switch to lock the manual focus at a desired position. Prevents focus shift caused by unintentional operation of the focus ring. This is useful for long time exposure photography, etc., where the focus should be fixed.
Lens Heater Retainer
A lip at the front of the lens prevents the lens heater* from protruding into the front of the lens and causing vignetting on the periphery of the screen.
*A belt-shaped heater that is wrapped around the lens to prevent condensation from forming inside the lens when the temperature drops
Rear filter Holder
A rear filter holder is provided as standard equipment at the lens mount for attaching a sheet-type rear filter. A lock mechanism is also provided to prevent the filter from falling out.
Special front cap with locking mechanism and filter slots
Includes a cover-type front cap with locking mechanism. It also has newly developed filter slots that can hold two rear filters depending on the application. The cap is specially designed for the 14mm F1.4 DG DN | Art to protect the sheet filters from scratches and dirt while ensuring that they are not mistakenly taken out or forgotten.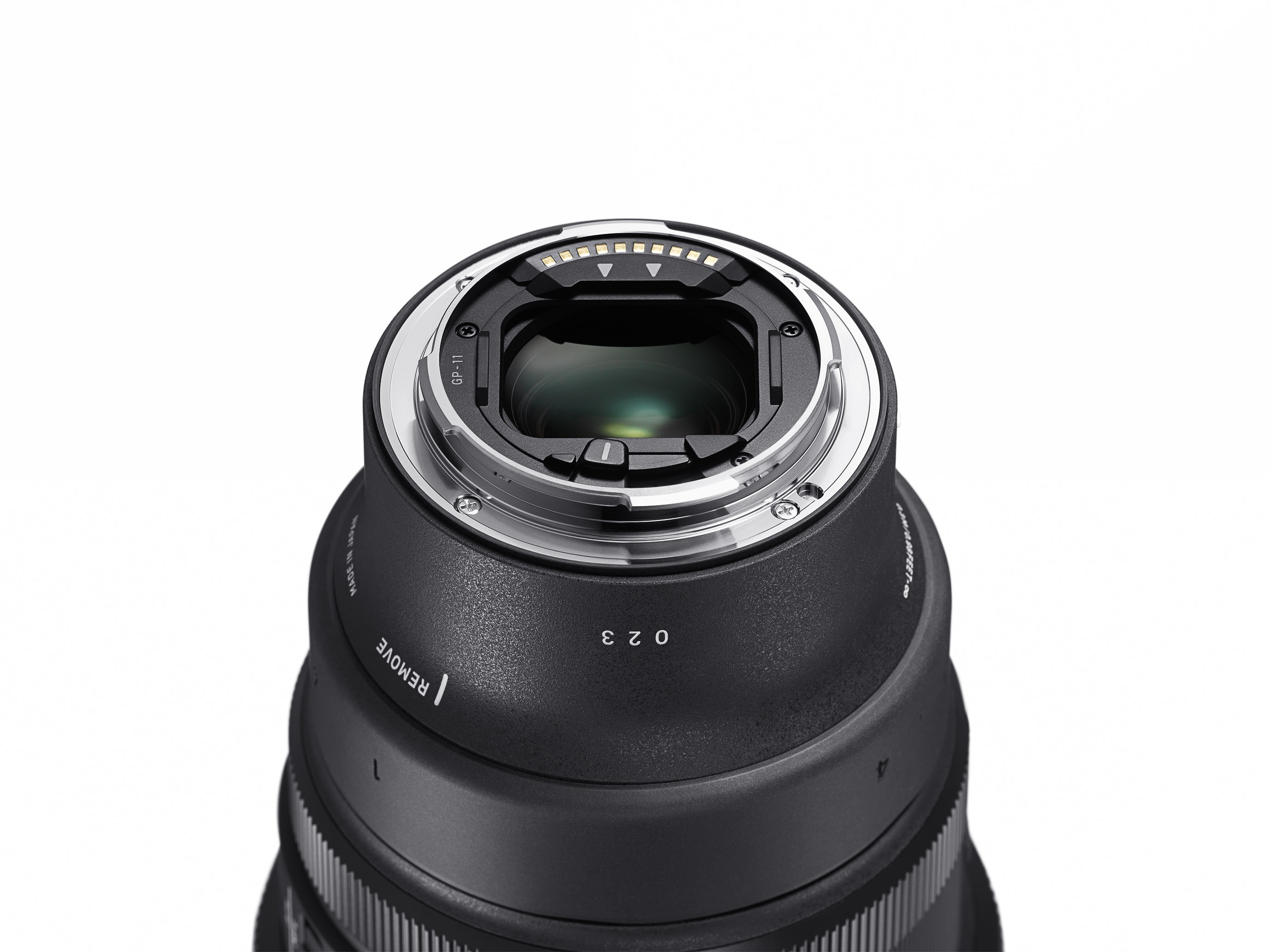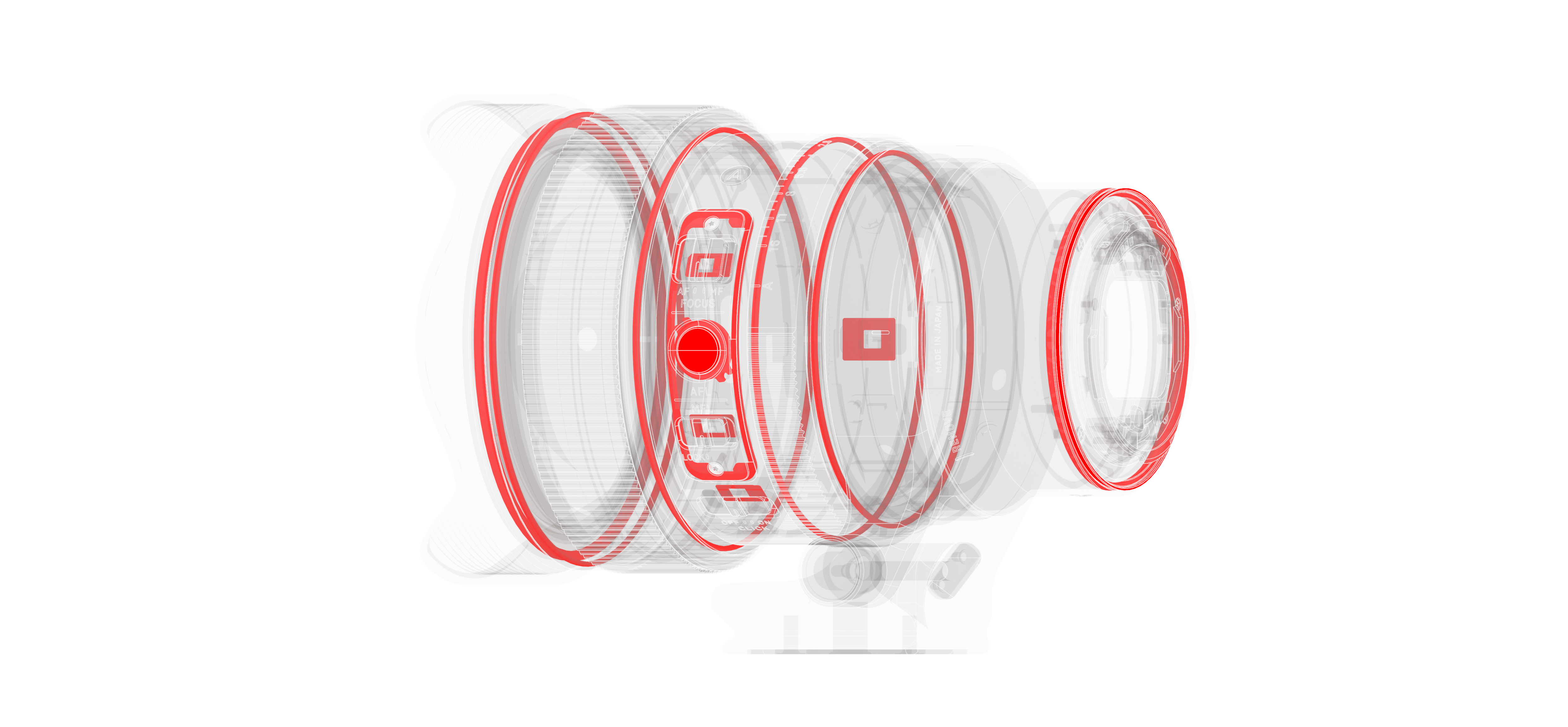 Signature Art line features and high build quality
In addition to functions specifically designed for shooting starscapes, the lens is equipped with various functions to assist in shooting, including an AFL button to which any function can be assigned and an aperture ring. The body is dust and splash resistant, and the frontmost surface of the lens is coated with a water and oil repellent coating, so you can shoot outdoors in harsh environments with peace of mind. The HLA (High-response Linear Actuator) enables high-speed, quiet, and highly accurate autofocusing.
[Key specifications] The figures below are for L-Mount.
Lens construction: 19 elements in 15 groups (3 FLD, 1 SLD, and 4 aspherical elements)|Angle of view: 114.2°|Number of diaphragm blades: 11 (rounded diaphragm)|Minimum aperture: F16|Minimum focusing distance: 30cm|Maximum magnification ratio: 1:11.9|Dimensions (Maximum Diameter x Length): φ101.4mm × 149.9mm|Weight: 1170g
[Additional features]
Inner focus system
Compatible with high-speed autofocus
HLA(High-response Linear Actuator)
Compatible with Lens Aberration Correction¹
Support DMF and AF+MF
Compatible with AF assist (Sony E-mount only)
Super Multi-Layer Coating
Water and Oil Repellent Coating (front element)
Aperture ring
Aperture ring click switch
Aperture ring lock switch
AFL button
MFL switch
Rear Filter Holder (compatible with GUIDE PLATE GP-11)
Lens Heater Retainer
Focus Mode Switch
Support for switching between linear and non-linear focus ring settings (for L-Mount only)
Dust and Splash Resistant Structure
TRIPOD SOCKET TS-141 (supplied)

Special front cap with locking mechanism and filter slot: COVER LENS CAP LC1014-01 (supplied)

Compatible with SIGMA USB DOCK UD-11 (sold separately / for L-Mount only)
Designed to minimize flare and ghosting
Every single lens undergoes SIGMA's proprietary MTF measuring system
11-blade rounded diaphragm
High-precision, durable brass bayonet mount
"Made in Japan" craftsmanship
¹Function available on supported cameras only. Available corrections or auto correction functionality may vary depending on the camera model.
On cameras where lens aberration correction is controlled with 'ON' or 'OFF' in the camera menu, please set all aberration correction functions to 'ON'(AUTO).
To learn more about SIGMA's craftsmanship, please visit SIGMA website at: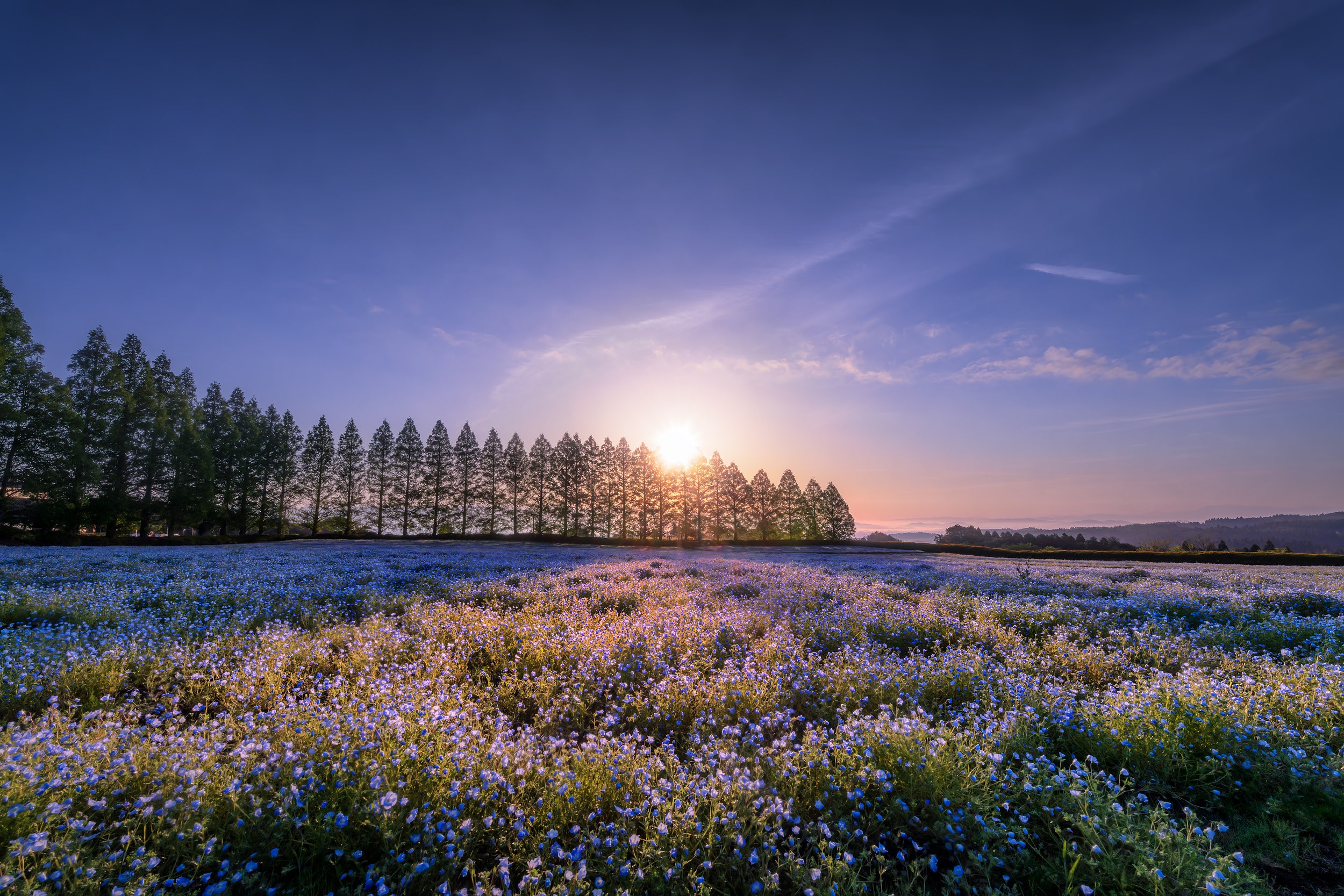 Specifications
More Information
Product Lines
Art
Construction
19 elements in 15 groups (3 FLD, 1 SLD, and 4 Aspherical lenses)
Lens Type
Wide Angle
Sensor Size
Full Frame
Angle of view
114.2 °
Number of diaphragm blades
11 (rounded diaphragm)
Minimum aperture
F16
Minimum focusing distance
30 cm
Maximum magnification ratio
1:11,9
Dimensions (diameter x length)

φ101,4mm × 149,9mm
φ101,4mm × 151,9mm

Weight (g)
Filter diameter
n/a
Edition number
A023
Supplied Accessories
Cover Lens Cap LC1014-01, Tripod Socket TS-141, Protective Cover PT-41, Gide Plate GP-11, Rear Cap, Soft Case
Accessories
USB dock UD-11 (L-mount only)
EAN-code
* All figures calculated by L-Mount. Note: The L-Mount Trademark is a registered Trademark of Leica Camera AG. About Product Name: Product name includes "DG" when the lens is designed to deliver the ultimate in performance on cameras with full-frame sensors, and "DN" when the lens design is optimized for mirrorless cameras with the short flange focal length.
Lens Construction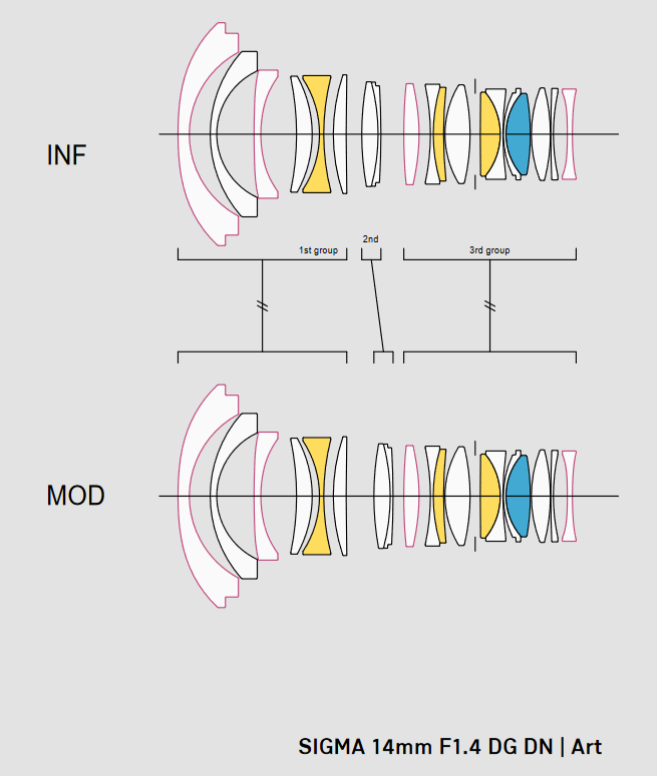 Geometrical MTF Chart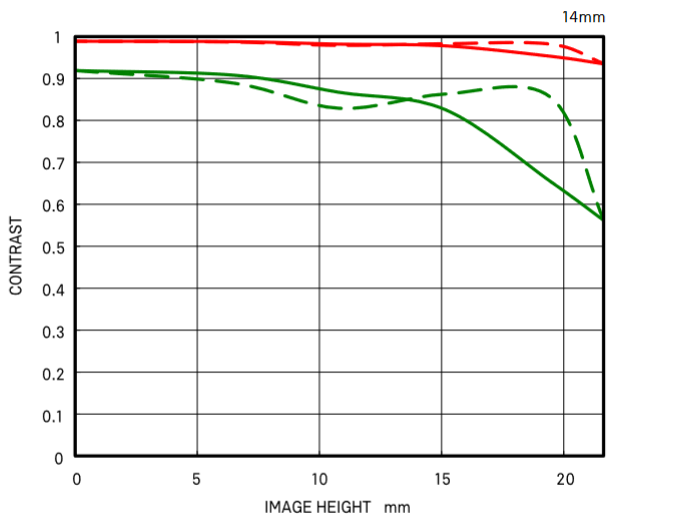 Diffraction MTF Chart