Ultra-wide in sight. Tiny in size.

In Stock
Compact, lightweight and high-performance ultra-wide-angle 17mm lens with an impressive minimum focusing distance.
"Compact, lightweight and high-performance ultra-wide-angle lens". Using the latest technology, the 17mm had been created without compromise, despite its challenging design concept. Its wide-angle of view creates impactful landscape images with a unique perspective and, thanks to its minimum close focusing distance of 12cm, the lens can be enjoyed in a variety of alternative ways, including close-up photography and hand-held selfies.
The lens construction consists of two SLD glass elements and three aspherical lens elements. Aspherical lenses are used for both the front and rear optics. This not only keeps the size of the lens compact but also helps with correcting lens aberrations. As a result, the lens features a φ55mm filter thread (which is smaller than comparable lenses of similar focal lengths) which makes it easy to change filters between SIGMA I series lenses that share the same filter size. Its construction also helps minimize flare and ghosting that is commonly found in ultra-wide-angle lenses, creating clear images in any environment.
SIGMA I series lenses are developed around the concept of "Compact everyday lenses with outstanding image quality" and the SIGMA 17mm F4 DG DN | Contemporary is exactly that. It features high-quality optics in a compact size, perfect for a wide variety of photographic styles.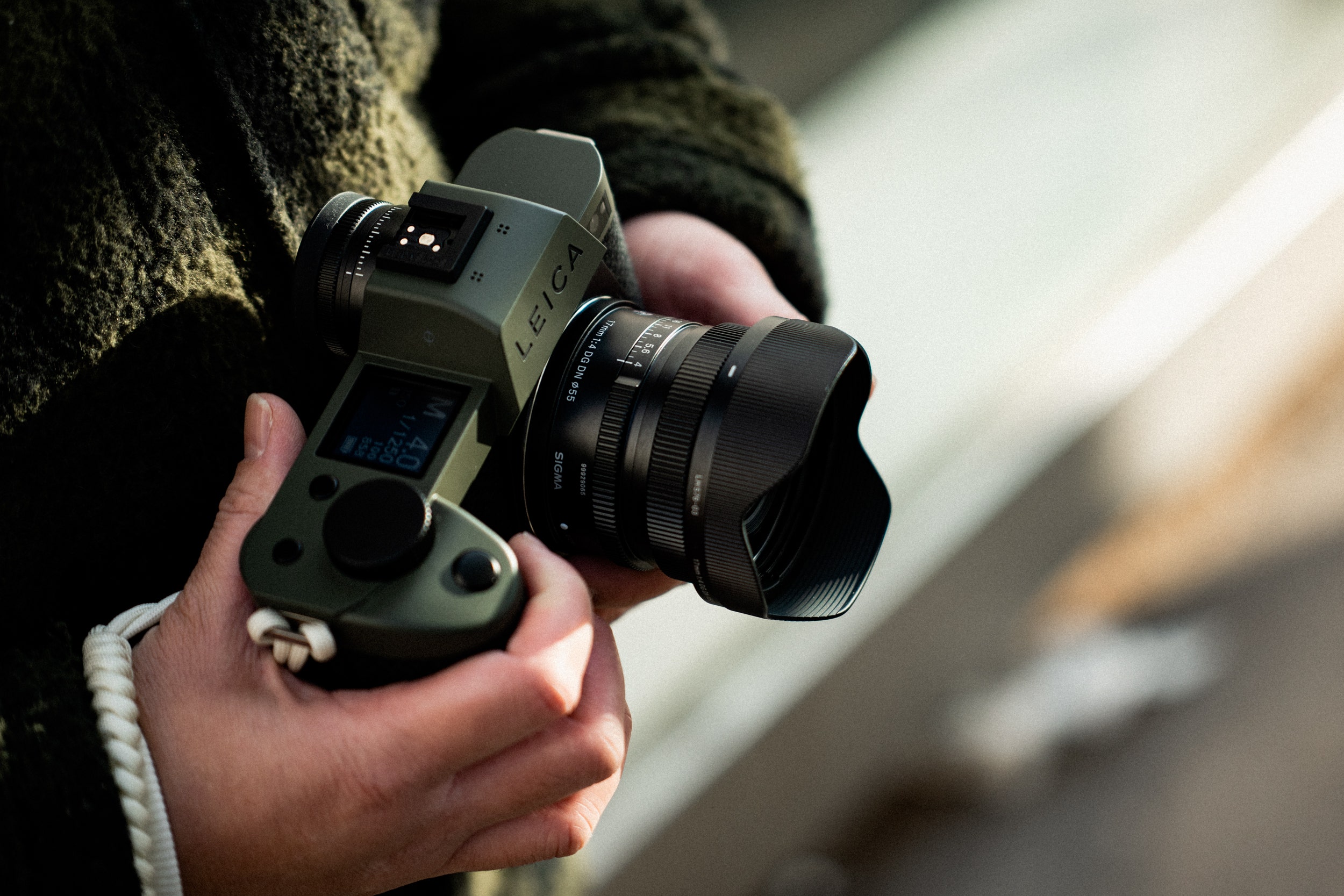 The conflicting ideals of improving optical performance while reducing body size and weight are achieved through the latest optical design, and the processing and production technologies at SIGMA's only production facility in Aizu.
A highlight of using the 17mm is the impressive minimum focusing distance of 12cm. Capture close-up macro style images in remarkable detail with expansive backgrounds. It is also suitable for selfies and vlogging, where items need to be shown at an arms-reach. A quiet, high-speed stepping motor drives the AF delivering fast and accurate results in both stills and video.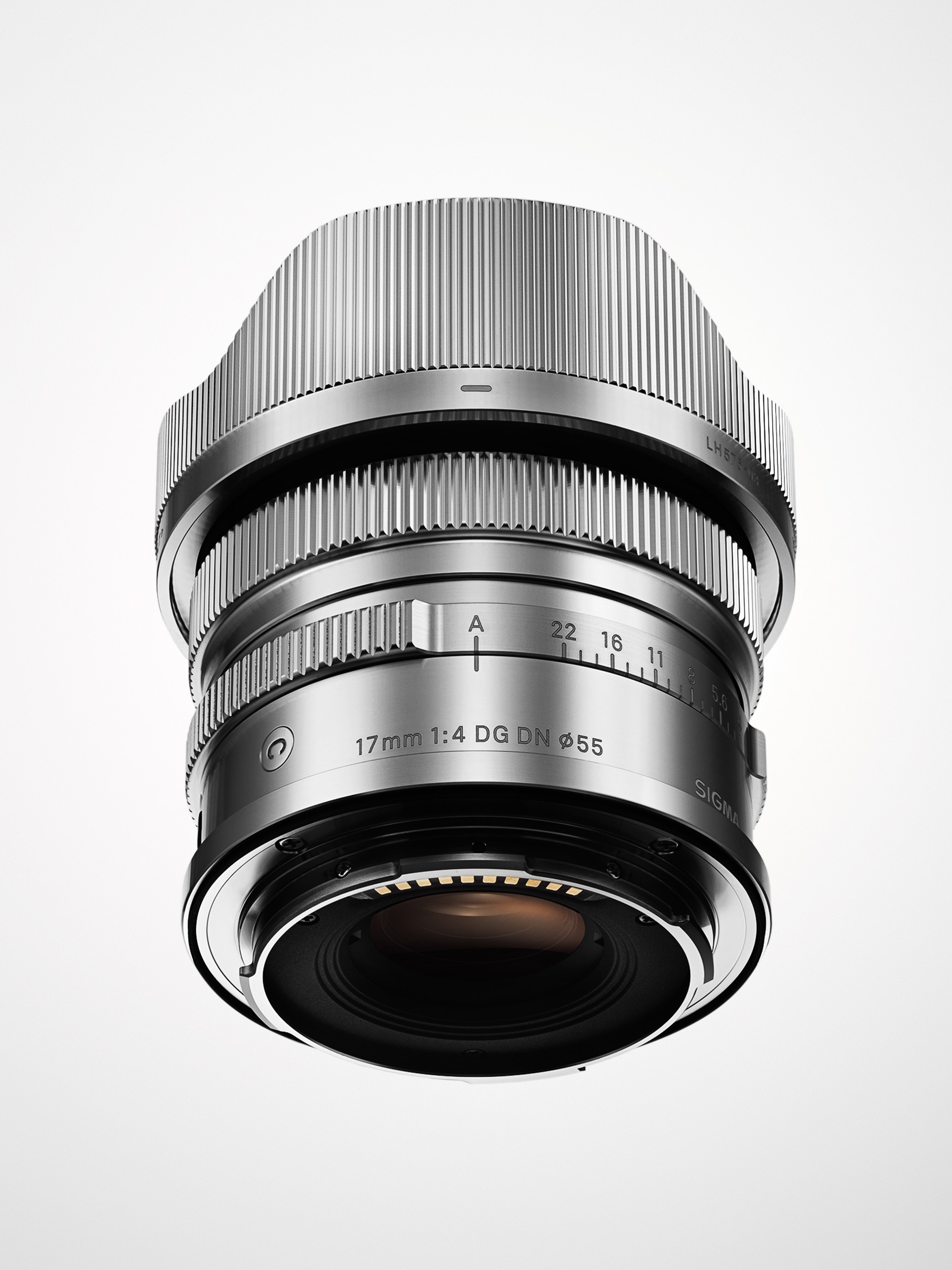 Exceptional I series build quality with a compact form-factor
All I series lenses have an all-metal construction. The precision-cut aluminum parts not only give the barrel a sleek, stylish finish, but provide superb durability that improves the quality of the entire product. Metal materials are also used in internal structures that slide with the operation ring for added robustness. These high-precision components crafted with SIGMA's cutting-edge metalworking technology are also used in SIGMA's CINE LENS line-up for professional cinematographers and provide a tactile, ergonomic feel that make the lens a pleasure to use. What is more with the I series is that this high build quality is condensed into a palm-sized lens body.
A smooth hairline cover ring is used between the focus and aperture rings to act as a finger hold when attaching and detaching the lens.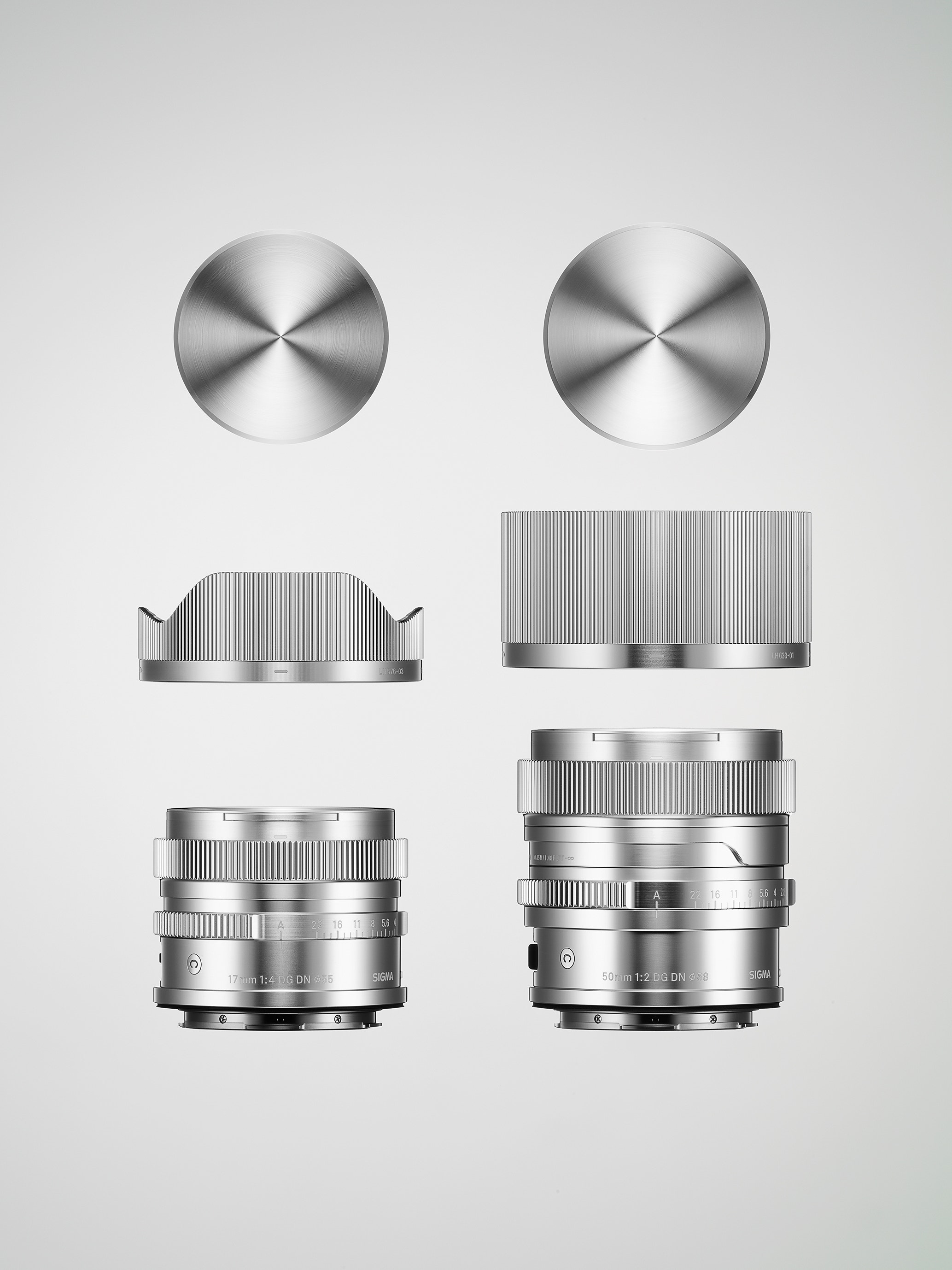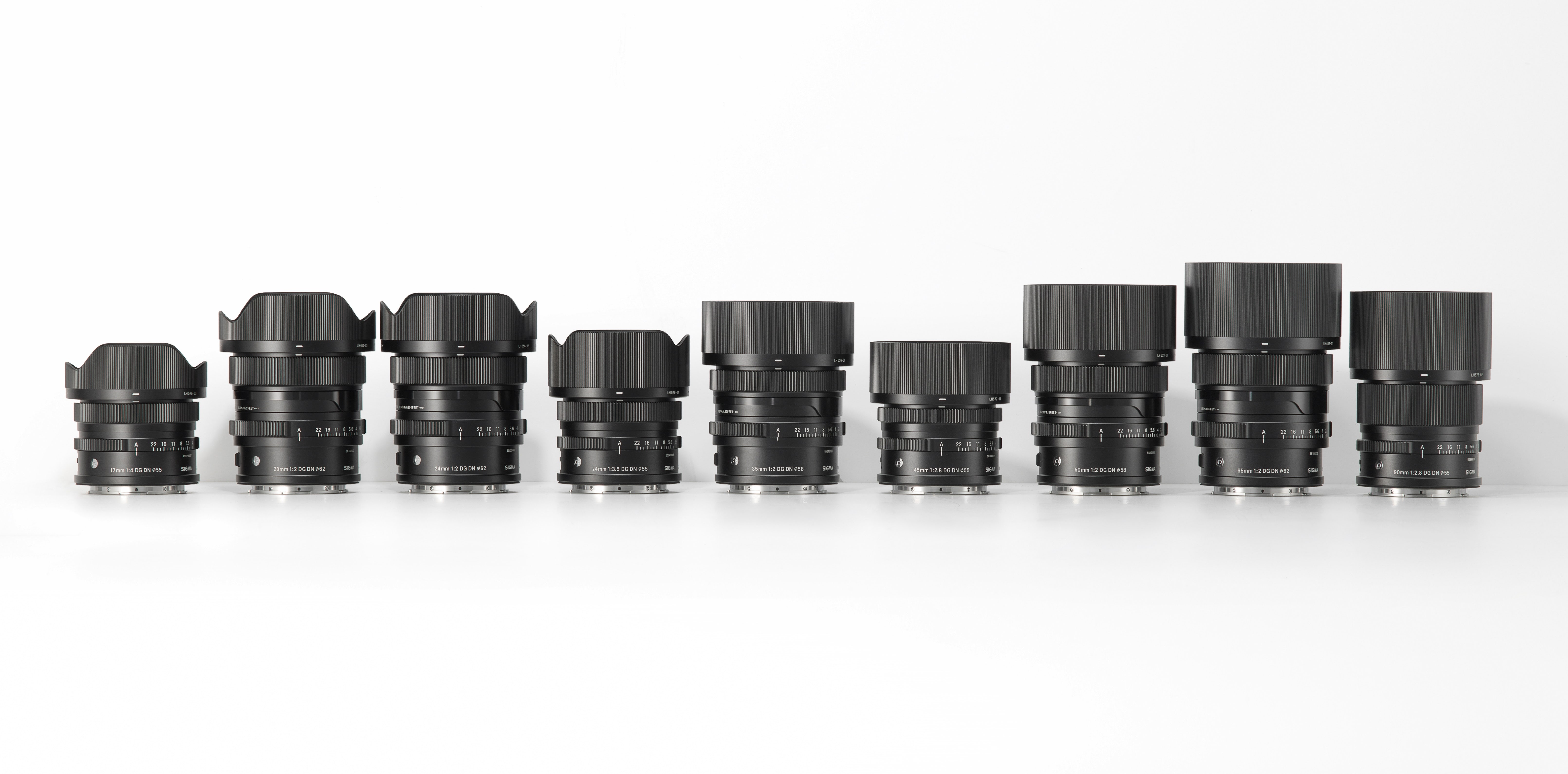 [Additional features]
● Lens construction: 9 elements in 8 groups (2 SLD, 3 aspherical elements)
● Inner focus system
● Compatible with high-speed autofocus
● Stepping motor
● Compatible with Lens Aberration Correction*
* Function available on supported cameras only. Available corrections and auto correction functionality may vary depending on the camera model.
* On cameras where lens aberration correction is controlled with 'ON' or 'OFF' in the camera menu, please set all aberration correction functions to 'ON' (AUTO).
● Support for DMF, AF + MF
● Compatible with AF assist (Sony E-mount only)
● Super Multi-Layer Coating
● Aperture ring
● Focus Mode switch
● Petal Type Hood (LH576-03)
● Magnetic metal lens cap (LCF55-01M)
● Designed to minimize flare and ghosting
● Support for switching between linear and non-linear focus ring setting*
*For L-Mount only
● Compatible with SIGMA USB DOCK UD-11*
* Sold separately / for L-Mount only
● Designed to minimize flare and ghosting
● Every single lens undergoes SIGMA's proprietary MTF measuring system
● 7-blade rounded diaphragm
● High-precision, durable brass bayonet mount
● "Made in Japan" craftsmanship
To learn more about SIGMA's craftsmanship, visit the Global SIGMA website at: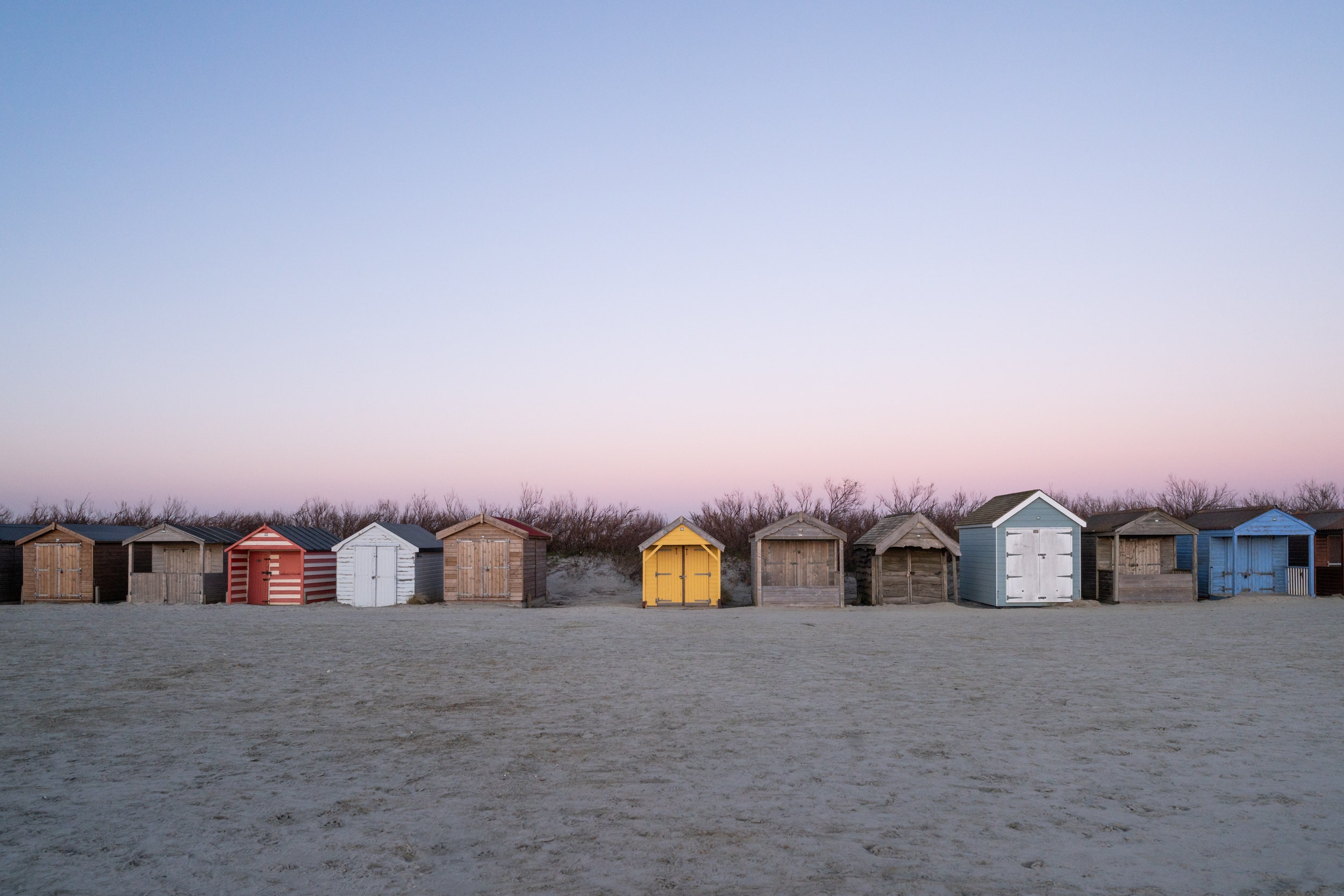 Specifications
More Information
Product Lines
Contemporary
Construction
9 elements in 8 groups (2 SLD and 3 aspherical lenses)
Lens Type
Wide Angle
Sensor Size
Full Frame
Angle of view
103,7°
Number of diaphragm blades
7 (rounded diaphragm)
Minimum aperture
F22
Minimum focusing distance
12m
Maximum magnification ratio
1:3,6
Dimensions (diameter x length)

φ 64mm × 48,8mm
φ 64mm × 50,8mm

Weight (g)
Filter diameter
55mm
Edition number
C023
Supplied Accessories
Lens hood LH76-03, Magnetic Front Cap LCF55-01M, Front Cap LCF-55 Ⅲ, Rear Cap LCR
Accessories
USB Dock UD-11 (L-mount), SIGMA WR PROTECTOR 55mm, SIGMA WR UV FILTER 55mm, SIGMA WR CIRCULAR PL FILTER 55mm
EAN-code
* All figures calculated by L-Mount. Note: The L-Mount Trademark is a registered Trademark of Leica Camera AG. About Product Name: Product name includes "DG" when the lens is designed to deliver the ultimate in performance on cameras with full-frame sensors, and "DN" when the lens design is optimized for mirrorless cameras with the short flange focal length.
Lens Construction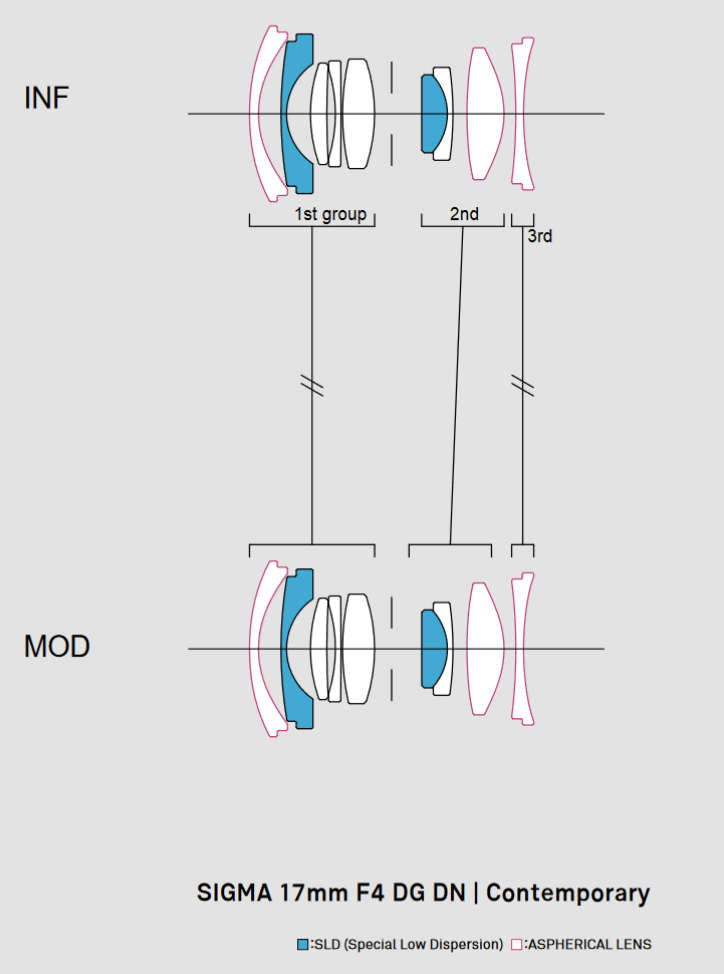 Geometrical MTF Chart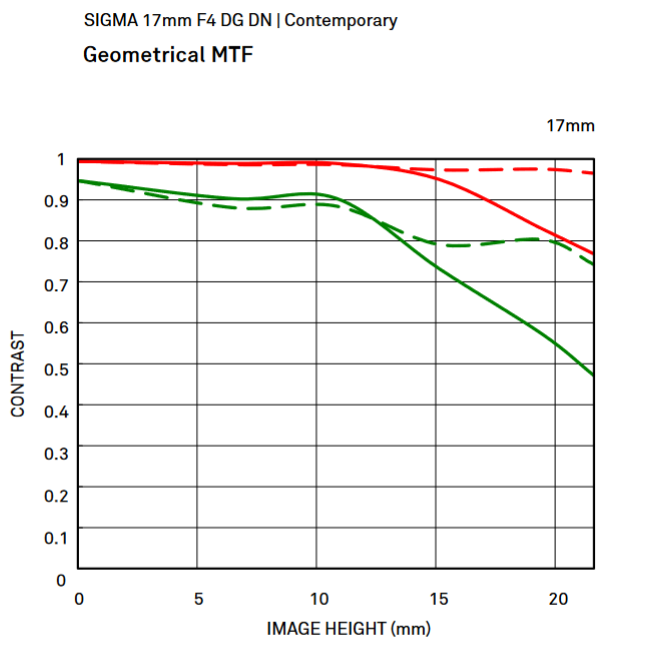 Diffraction MTF Chart