The decisive moment, captured exactly as intended
A new ultra-telephoto zoom lens which combines high magnification with an extremely high level of image quality and mobility
OS (Optical Stabilizer) function
Dust and Splash Resistant Structure
Inner focus system
Compatible with high-speed autofocus
HLA (High-response Linear Actuator) - High speed focus engine
Compatible with Lens Aberration Correction
Super Multi-Layer Coating
Water and Oil Repellent Coating (front element)
"Made in Japan" craftsmanship

In Stock
The one and only 60-600mm zoom lens, able to handle every situation from standard to ultra-telephoto all by itself
The SIGMA 60-600mm F4.5-6.3 DG DN OS | Sports is an ultra-telephoto 10x zoom lens for full-frame mirrorless cameras that covers a zoom range of 60-600mm, a range only available from SIGMA. It enables users to seamlessly capture scenes from close-ups to long distance shots without changing lenses, even in difficult situations such as air shows or professional sports events.
Stable and high optical performance throughout the entire zoom range
SIGMA employed the latest optical design to effectively correct chromatic aberrations that tend to occur in the ultra-telephoto range using a variety of high quality materials, including FLD and SLD glass elements. The lens is capable of capturing every moment with uncompromising high image quality in the unique focal length range of 60-600mm.
The minimum focusing distance is 45cm at the wide end, and at the focal length of 200mm, the lens offers a maximum magnification ratio of 1:2.4, allowing users to also enjoy the lens as a telephoto macro lens, adding to its overall versatility.
High-speed AF owing to newly developed motor "HLA" to capture the decisive moment
The autofocus of the SIGMA 60-600mm F4.5-6.3 DG DN OS | Sports makes use of the newly developed linear motor "HLA (High-response Linear Actuator)". This high-output linear motor and advanced electronic control realize a quiet autofocus with unparalleled high speed and high precision. The new motor also enables high focus-following performance, ensuring that the decisive moment is not missed in sports photography and any other situation where the subjects are in motion, from motor vehicles to birds in flight.
Newly developed optical stabilizer algorithm "OS2" with high compensation capability of up to 7 stops
The OS (Optical Stabilizer) function employs SIGMA's newly developed algorithm "OS2". The new algorithm significantly improves image stabilization performance, with 7 stops at the wide end and 6 stops at the telephoto end. This allows the lens to capture powerful and dynamic moments with a rich sense of motion.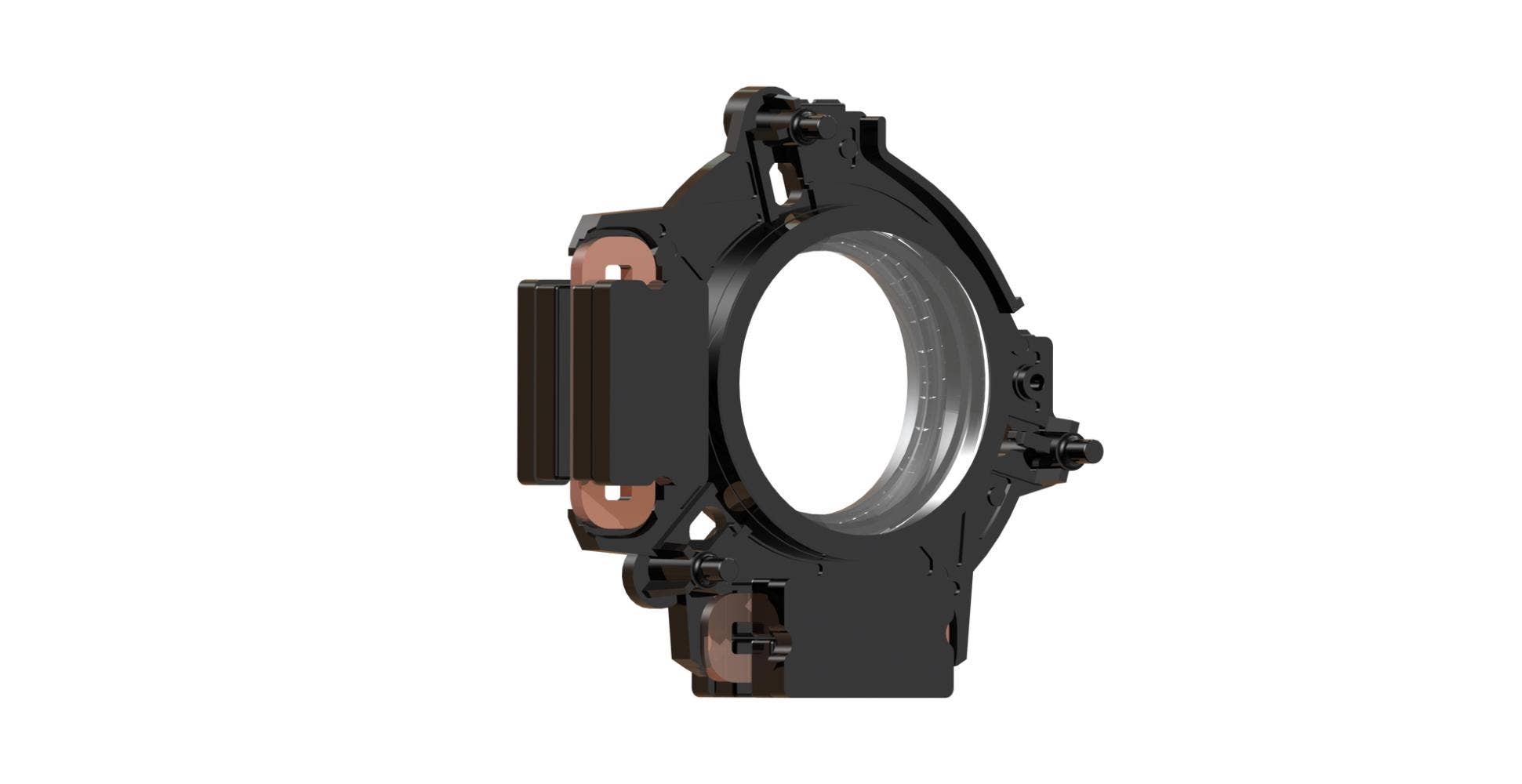 The lens is equipped with two OS modes: Mode 1 is suitable for general shooting, and Mode 2 is best suited for fast panning shots, for example in motorsports and other dynamic situations. In Mode 2, an acceleration sensor combined with SIGMA's Intelligent OS, an algorithm specially designed for panning shots, enable effective image stabilization even when the camera is moved vertically or diagonally, regardless of the horizontal and vertical orientation of the lens. This means that the movement of the subject can be expressed without losing the effect of panning shots.
Multi-material structure for lightweight and strong robustness
The lens features a multi-material structure, in which materials such as magnesium, CFRP*1, and TSC*2 are optimally arranged according to their characteristics. As a result, the lens barrel is lighter in weight while retaining the same robustness as previous models, thereby providing high versatility in a variety of scenes and applications.
*1 Carbon Fiber Reinforced Plastic, a light but strong material used in the interior and exterior fittings of aircraft, among many other applications.
*2 Thermally Stable Composite, a polycarbonate with a thermal expansion rate similar to that of aluminum. Its high affinity to metal parts contributes to high manufacturing quality standards.
Dual Action Zoom for intuitive framing
The lens supports Dual Action Zoom, allowing users to use both rotary zooming by rotating the zoom ring and straight zooming by grasping the tip of the lens. This enables both precise and quick operation in any given situation.
Dust and Splash Resistant Structure for security in various shooting situations
The mount connection, manual focus ring, zoom ring, switches, switch panel and exterior connection are all dust and splash resistant* to prevent dust and dirt from entering the lens. Further, the front element of the lens features a water and oil repellent coating to facilitate maintenance when water droplets or dust adhere to the lens.
* The structure is designed to be dust and splash resistant, but not waterproof. Be careful not to bring the lens in contact with a large amount of water. Water inside the lens may cause major damage and even render the lens unrepairable.
High customizability and build quality of SIGMA's Sports line
The SIGMA 60-600mm F4.5-6.3 DG DN OS | Sports is equipped with substantial features of SIGMA's Sports line standard of high-mobility, high-performance lenses. Manufactured in SIGMA's sole production base in Aizu, Japan, the lens features an exceptional build quality that combines robustness with practicality and a high level of precision in every single detail.
Customizable functions
Equipped with a Focus Limiter switch, the lens enables users to limit the focus driving range during AF when necessary, allowing quick and precise focusing.
Further, the lens features three AFL buttons* ready to be assigned to preferred functions using the camera. The AFL buttons are easy to operate regardless of how the camera is oriented or which settings are used.
For the L-Mount version, the SIGMA USB DOCK UD-11 can be used to set OS operation or focus limiter range for the Custom Mode switch.
* Only on compatible cameras. Available functions may vary depending on the camera used.
Interchangeable Tripod Socket
The lens body incorporates an Arca Swiss compatible magnesium alloy tripod socket. The leg can be removed and replaced with other interchangeable tripod sockets (sold separately) or attached to a monopod, allowing for a multitude of different uses and situations.
Tele Converter for L-Mount (1.4x / 2.0x)
The L-Mount version of the lens is compatible with the SIGMA TELE CONVERTER TC-1411 (1.4x) and TC-2011 (2.0x). Using a tele converter, the focal length can be multiplied by 1.4x and even 2x, for AF-enabled shooting at ultra-telephoto focal lengths of up to 1200mm.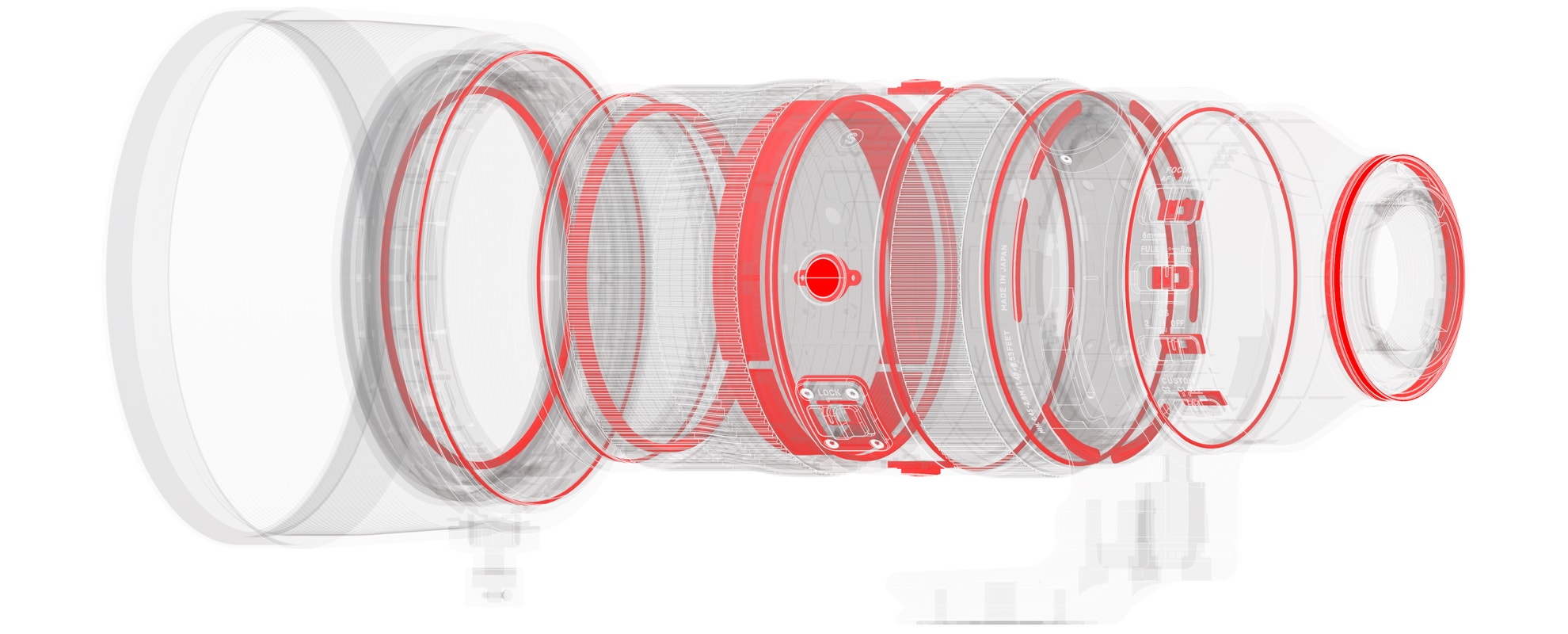 [Additional features]
● Lens construction: 27 elements in 19 groups (2 FLD and 3 SLD)
● OS (Optical Stabilizer) function
● Inner focus system
● Compatible with high-speed autofocus
● HLA (High-response Linear Actuator)
● Compatible with Lens Aberration Correction*
* Function available on supported cameras only. Available corrections and auto correction functionality may vary depending on the camera model.
* On cameras where lens aberration correction is controlled with 'ON' or 'OFF' in the camera menu, please set all aberration correction functions to 'ON' (AUTO).
● Support for DMF, AF + MF
● Compatible with AF assist (Sony E-mount only)
● Super Multi-Layer Coating
● Water and Oil Repellent Coating (front element)
● AFL button*
* Only on compatible cameras. Available functions may vary depending on the camera used.
● Focus Limiter switch
● Focus Mode switch
● OS switch
● Custom Mode switch
● Zoom Lock switch
● Dust and Splash Resistant Structure
● Hood (LH1144-02)
● Tripod Socket TS-121 (replaceable lens foot type)
● Compatible with SIGMA TELE CONVERTER TC-1411 / TC-2011*
● Compatible with SIGMA USB DOCK UD-11*
* sold separately / for L-Mount only
● Designed to minimize flare and ghosting
● Every single lens undergoes SIGMA's proprietary MTF measuring system
● 9-blade rounded diaphragm
● High-precision, durable brass bayonet mount
● "Made in Japan" craftsmanship
To learn more about SIGMA's craftsmanship, visit the Global SIGMA website at: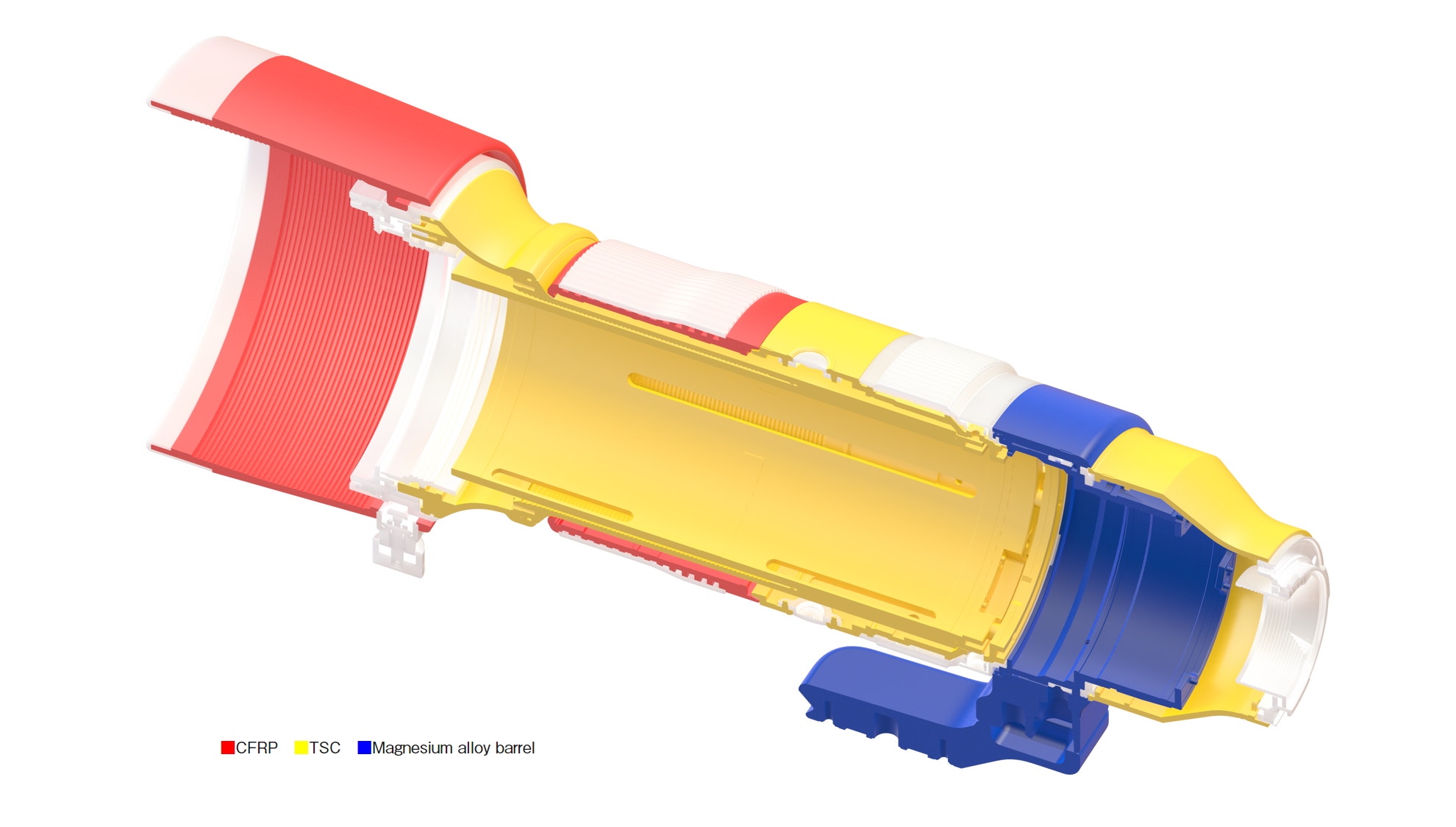 Specifications
More Information
Product Lines
Sports
Construction
19 groups, 27 elements (2 FLD and 3 SLD)
Lens Type
Telephoto
Sensor Size
Full Frame
Angle of view
39.6-4.1°
Number of diaphragm blades
9 (rounded diaphragm)
Minimum aperture
F22-32
Minimum focusing distance
45-260cm
Maximum magnification ratio
1:2.4 (at 200mm focal length)
Dimensions (diameter x length)

φ119.4mm x 279.2mm
φ119.4mm x 281.2mm

Weight (g)
Filter diameter
105mm
Edition number
S023
Supplied Accessories
Front Cap LCF-105 III, Cover Lens cap LC-740E, Lens Hood LH1144-02, Tripod Socket TS-121, Rear Lens Cap LCR II, Soft Lens Case
Accessories
Tele converter TC-1411, TC-2011 for L-mount, USB Dock UD-11 for L-mount, WR Ceramic Protector 105mm
EAN-code
* All figures calculated by L-Mount. Note: The L-Mount Trademark is a registered Trademark of Leica Camera AG. About Product Name: Product name includes "DG" when the lens is designed to deliver the ultimate in performance on cameras with full-frame sensors, and "DN" when the lens design is optimized for mirrorless cameras with the short flange focal length.
Lens Construction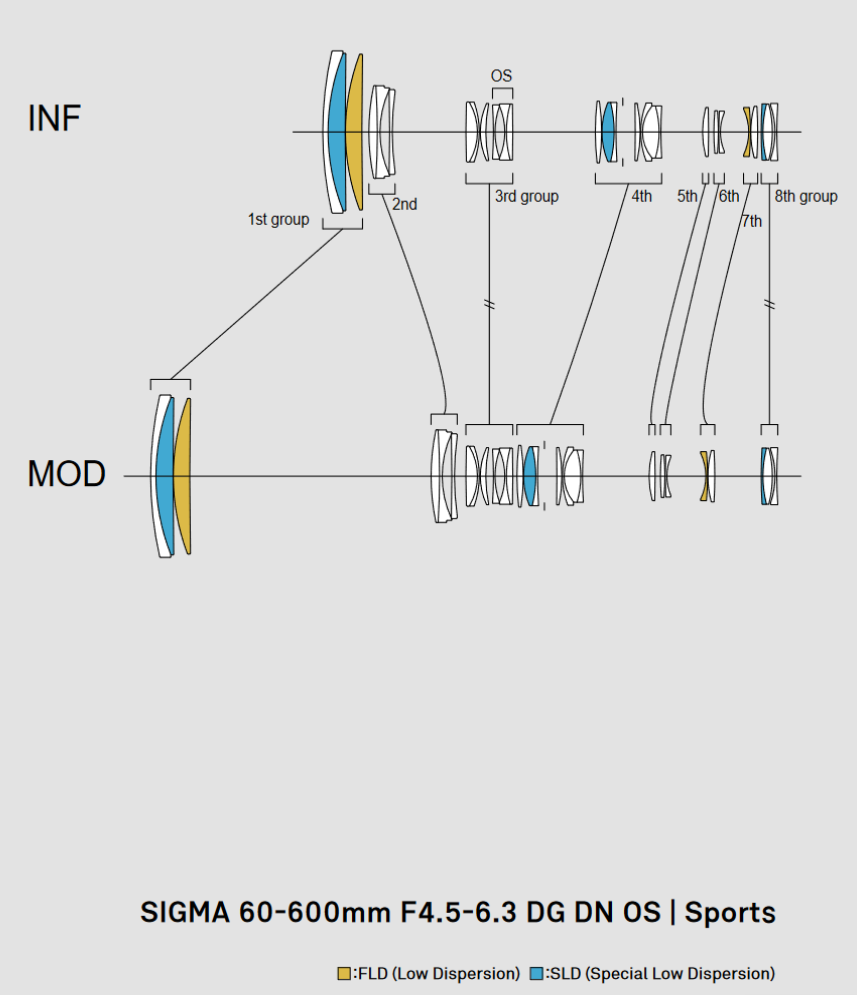 Geometrical MTF Chart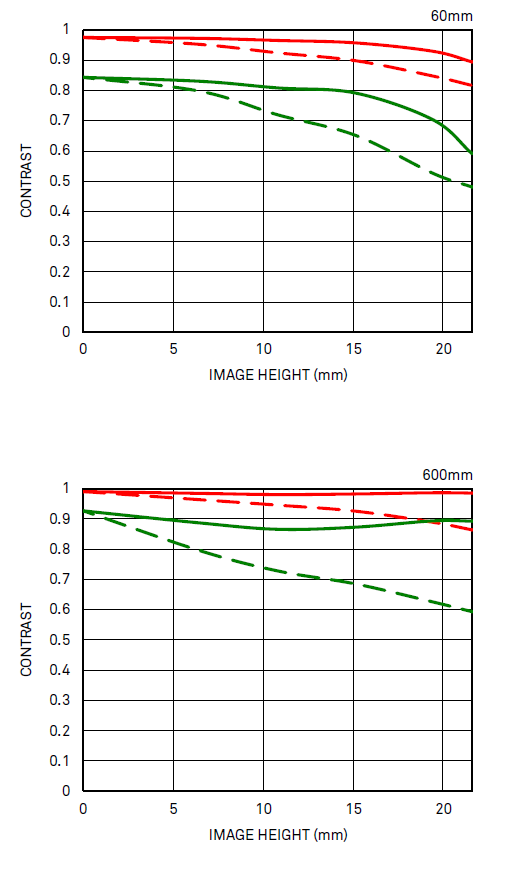 Diffraction MTF Chart