The first macro to join the Art line
First true 1:1 Macro Art lens with stunning resolution and clarity
Focus-by-wire system for comfortable and precise focusing
Compatible with Sony E-mount cameras with full-frame sensors
Compatible with Canon Lens Aberration Correction
Compatible with SIGMA TELE CONVERTERS (Execpt for the Sony E-mount) 

In Stock
The Sigma 70mm F2.8 DG Macro is the first prime macro lens to be adorned with the Art badge. Fully redesigned to deliver exceptional 1:1 (life-sized) magnification, the 70mm F2.8 DG Macro lens features a coreless DC motor for extremely smooth autofocus performance.
Design prioritizing optical performance
In order to realize top-level performance at every shooting distance, the lens features an extending, floating, two-group focus mechanism. This configuration minimizes aberration to produce optimal results at any focus distance.
To minimize axial chromatic aberration, the optical system incorporates two FLD glass elements, two SLD glass elements, and one element with a high rate of anomalous partial dispersion and a high index of refraction.
Two aspherical lens elements help increase resolution at close shooting distances. This optical system makes possible a razor-sharp in-focus area contrasted with a bokeh area free of color streaking.
Focus-by-wire system
The focus-by-wire system eliminates the direct mechanical connection between the focus ring and the focus drive system. It incorporates a newly developed coreless DC motor.
Controlled by SIGMA's latest algorithm, the newly developed coreless DC motor adjusts focus with optimal speed and low noise. Full-time manual focus is available even during autofocus, allowing the photographer to make minute focus adjustments simply by turning the focus ring.
The focus ring's large angle of rotation helps the photographer achieve the extremely precise focusing required for effective macro photography.
Compatible with Tele Converters
The lens is compatible* with SIGMA TELE CONVERTERS (sold separately) designed for the new lens lines. SIGMA TELE CONVERTER TC-1401 allows the lens to be used as a 98mm F4 mid-telephoto macro with autofocus functionality**, while SIGMA TELE CONVERTER TC-2001 allows the lens to be used as a 140mm F5.6 mid-telephoto macro with manual focus. By using tele converters, it is possible to shoot at more than 1x magnification.
*Not compatible with Sony E-mount
** Autofocus available at 0.5m to infinity
The Canon EF mount version of the lens is compatible with Canon's Lens Aberration Correction which performs in-camera corrections of peripheral illumination, chromatic aberrations, distortion, and more, to further enhance image quality.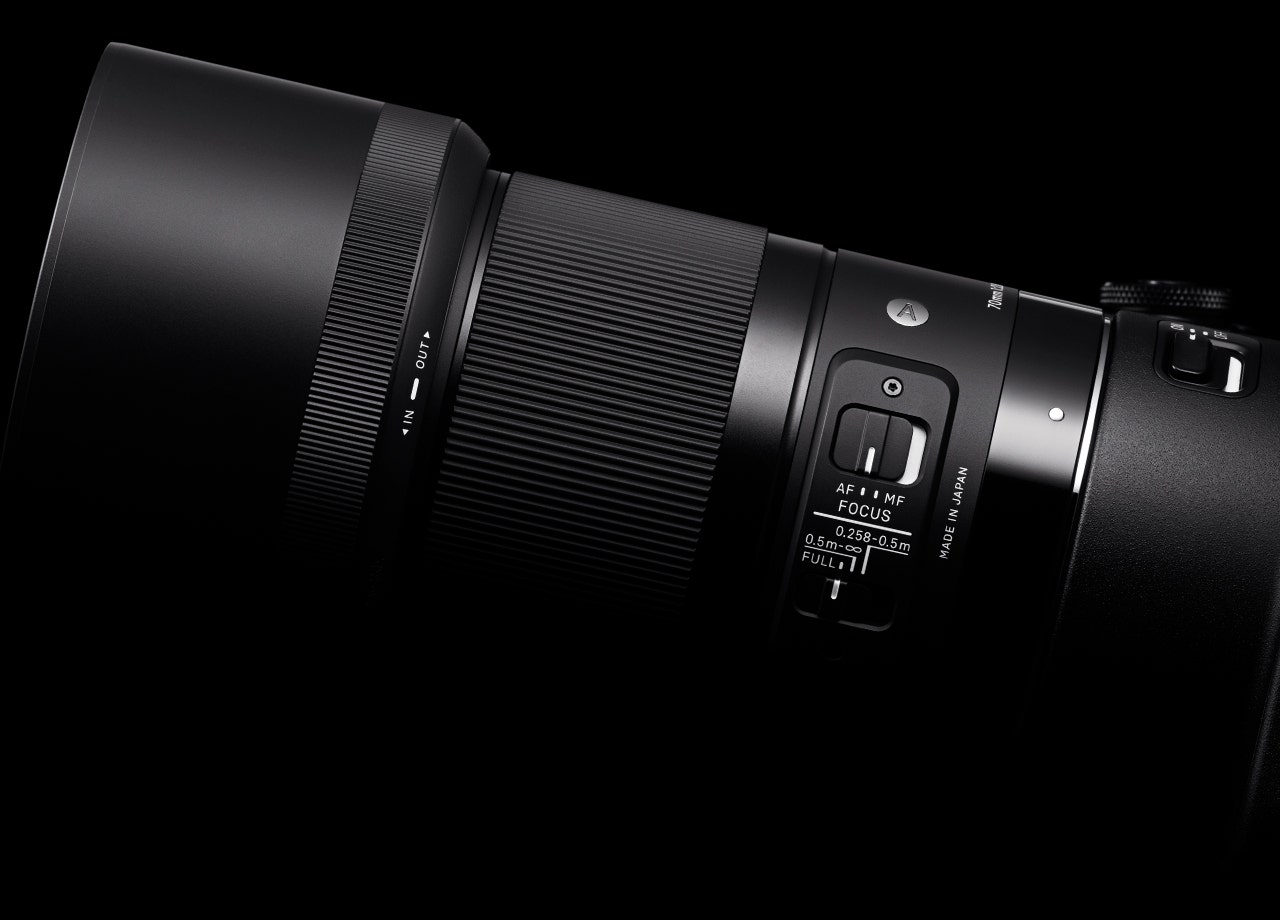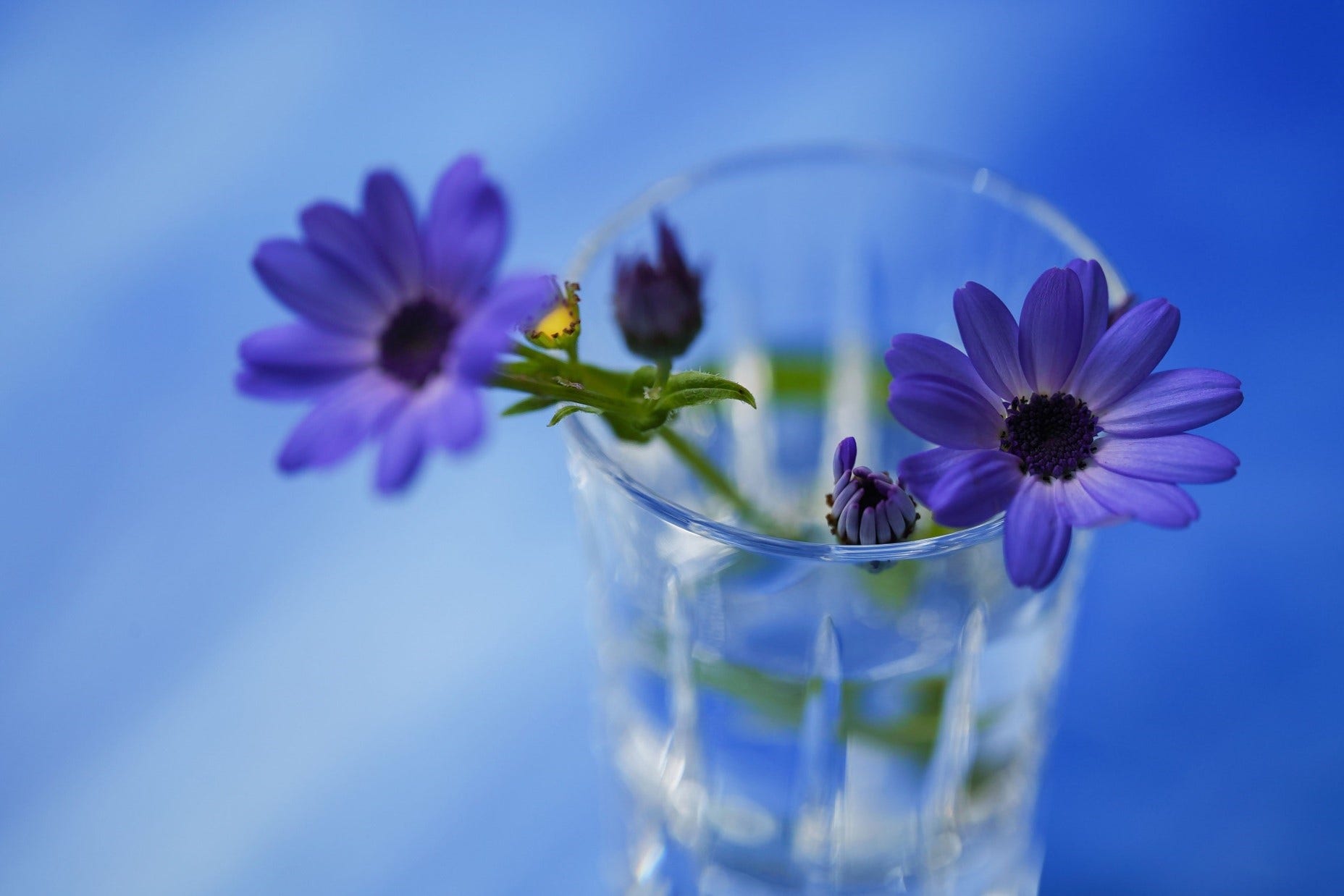 Specifications
More Information
Product Lines
Art
Construction
13 Elements in 10 Groups
Lens Type
Macro
Sensor Size
Full Frame
Angle of view
34.3°
Number of diaphragm blades
9 (Rounded Diaphragm)
Minimum aperture
F"F22
Minimum focusing distance
25.8 cm
Maximum magnification ratio
1:1
Dimensions (diameter x length)

Sigma SA-mount
Sony E-mount
L-Mount

⌀ 70.8 mm x 105.8 mm
⌀ 70.8 mm x 131.8 mm
⌀ 70.8 mm x 129.8 mm

Weight (g)

Sigma SA-mount
Sony E-mount
L-Mount

Filter diameter
49mm
Edition number
A018
Accessories
Case and Lens Hood (LH708-01) supplied
EAN-code

Sigma SA
Sony E
L-mount
Canon EF

085126271565
085126271657
085126271695
085126271541
DG - DG for Digital Full Frame and APS-C
* The appearance, specifications, and the like of the product are subject to change for improvement without notice.
** This product is developed, manufactured and sold based on the specifications of E-mount which was disclosed by Sony Corporation under the license agreement with Sony Corporation.
Lens Construction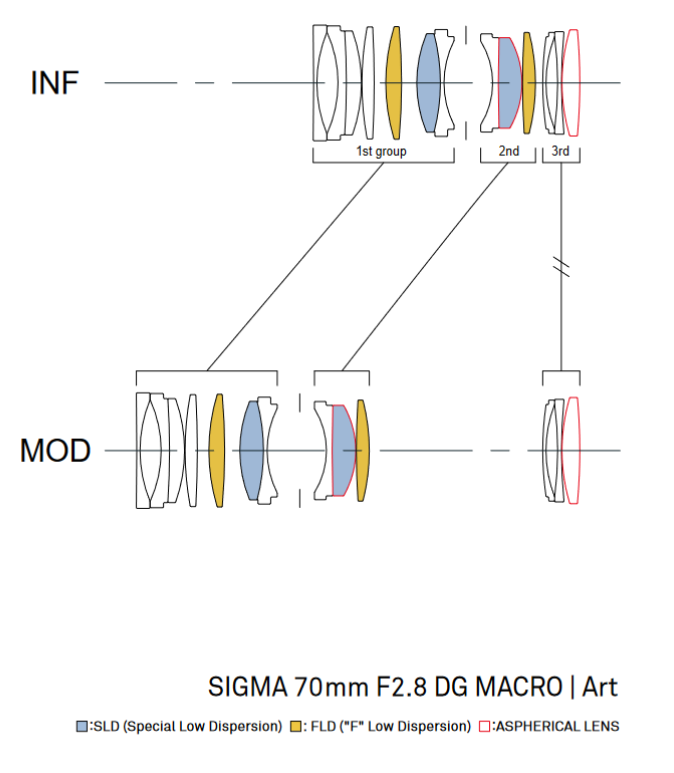 Geometrical MTF Chart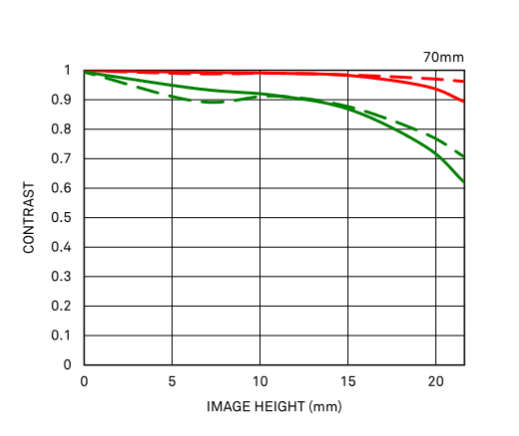 Diffraction MTF Chart