Inspiration
SIGMA 85mm F1.4 DG DN Art
SIGMA 85mm F1.4 DG DN Art - Noblesse oblige
- SIGMA Benelux
Article translated from Dutch, originally created by SIGMA Benelux for sigmabenelux.com
SIGMA is proud to present the 85mm F1.4 DG DN | Art, a bright portrait lens specially designed for mirrorless cameras with L-Mount or Sony E-Mount. The lens is compact and light, but at the same time does not compromise on image quality. We took it to one of the most beautiful castles in the Netherlands for a stylish portrait shoot.

One of the most eye-catching features of this SIGMA 85mm F1.4 DG DN | Art is its compact size. The lens is remarkably small and compact, especially considering the construction and optical qualities. Compared to the existing SIGMA 85mm F1.4 DG, this new bright 85mm for mirrorless cameras is about half the size and lighter. This makes it a lens that can be excellently combined with the A7 bodies from Sony and the various cameras with the L-Mount, such as the ultra-compact full-frame SIGMA fp.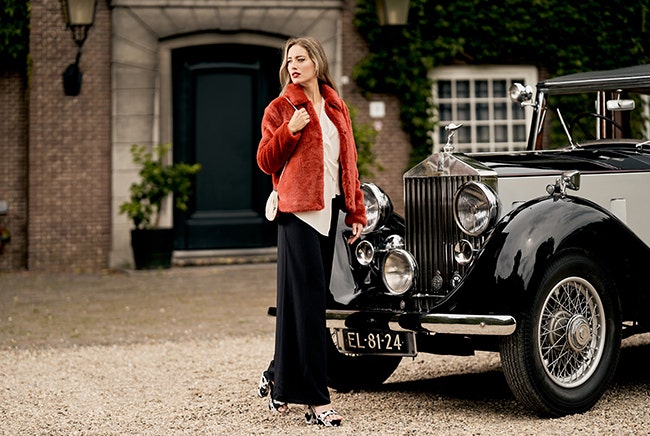 Fortunately, the small sozes say nothing about the optical qualities. For those thinking that modest dimensions also go hand in hand with modest qualities, this SIGMA 85mm F1.4 DG DN | Art is the ultimate proof that this hypothesis is not correct at all. The opposite is even true, because this bright portrait lens is one with life-size ambitions. The A of Art is prominent on the flank for a reason.

To do it justice, we put the SIGMA 85mm F1.4 DG DN | Art to the test with a stylish portrait shoot on the grounds of Slot Zuylen, with Lady Marlies in the radiant lead role. The stylish appearance was complemented by the entrance of an astonishing example of automotive luxury from the early 1930s. With the high-quality optical qualities of this SIGMA 85mm F1.4 DG DN | Art, we could not do anything else than to opt for the ultimate in automotive quality: a Rolls Royce! By the way, not just any one. No, this 1932 black and silver specimen once belonged to the British court. Noblesse oblige.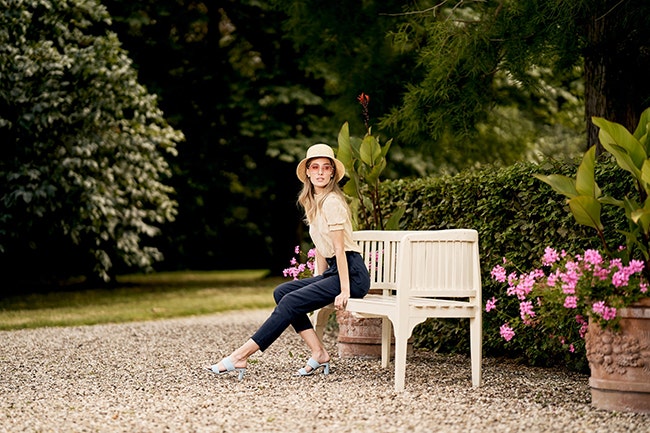 Portraits
An 85mm has traditionally been a focal length that is excellent for taking tasty portraits. Due to the slightly longer focal length, you are at a nice distance from your model, so that the perspective is correct and distortion is not necessary. In addition, the distance also ensures that you can beautifully separate a subject from the foreground and background, especially if a large aperture opening is also involved. This lens absolutely has that large aperture, because just like many other lenses from the Art series, this 85mm also has a beautiful maximum opening of F1.4 with which you can create the most beautiful background blur. Because this portrait prime performs excellent optically, you can actually use that large opening in practice.

Most of the images we took during this shoot were even made at F1.4. That is no problem, although it is of course important that you ensure that the sharpness is in the right place. With F1.4 you are, of course, quickly wrong due to the limited depth of field, but the autofocus is calculated for that and the stepper motor performs pleasantly accurately.

Does your camera have eye or face detection on board for humans and animals? that is not an issue, because the autofocus system is also designed for that. The system is also fast and silent, so you can quickly get started with the lens wonderfully intuitively and pleasantly. To get back to the silence: that is ideal if you are going to film. In that way, you won't be bothered by annoying focus noises while capturing a whisper-quiet scene.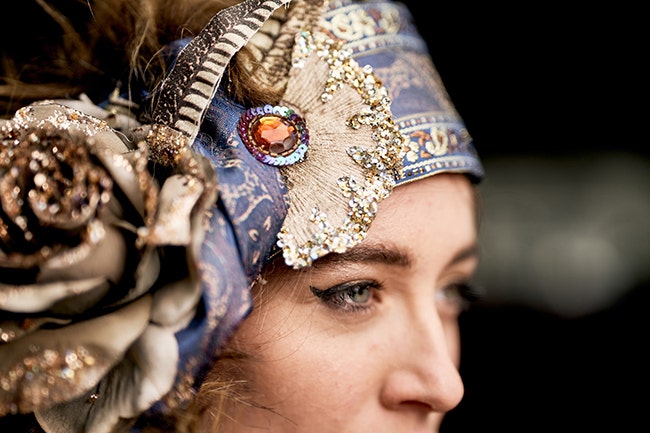 The lens feels very sturdy and is built with great finesse. A number of buttons can be found on the lens, for example you can switch between autofocus and manual focus, you can fix the aperture and there is the option to make the aperture ring stepless. In that way, you can ensure smooth aperture transitions during filming. There is also an AFL-button with which you can assign a large number of functions, depending on your camera, for extra personalization of your equipment. It is nice that the lens hood comes with a lock as standard: you will never lose it.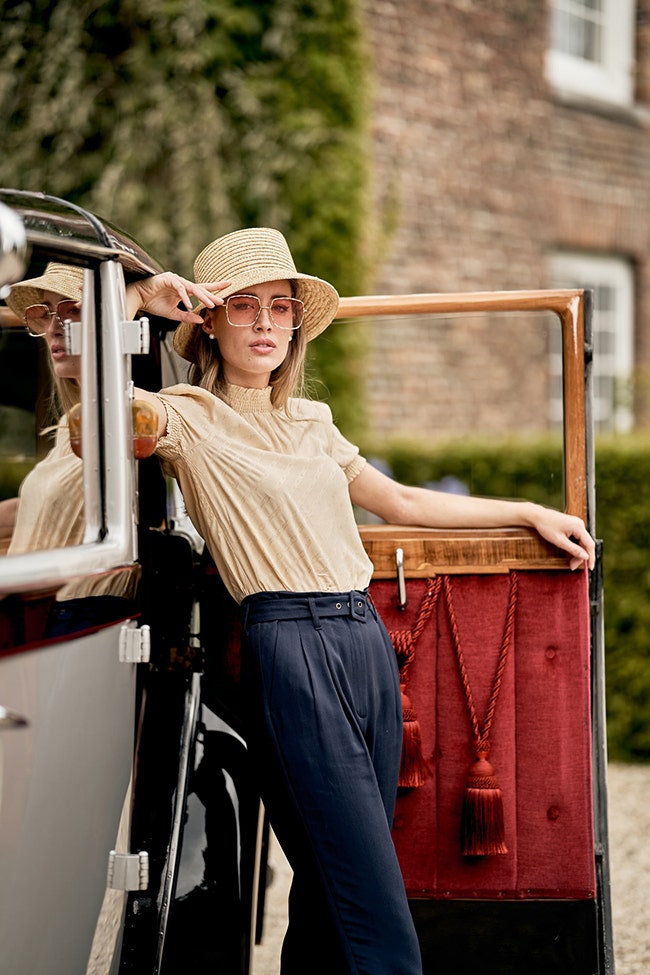 Teamwork
The SIGMA 85mm F1.4 DG DN | Art excels in the exciting interplay of sharp and blurry. The large maximum aperture of F1.4 and the long focal length allow you to finely isolate a subject and use elements in the foreground and background to create the most beautiful images. This way, we were able to beautifully isolate Lady Marlies from the Rolls Royce Sedanca de Ville, while in reality she was more or less against it. This gives the image a beautiful three-dimensional character. Combine that aspect with interesting structures and elements in the blur, and you have a very stront recipe for a catchy image.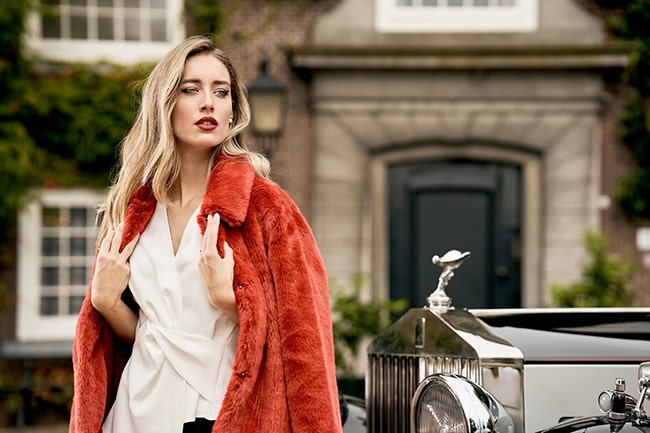 Foreground blur
By the way, don't forget the foreground blur, with the distance to your model that an 85mm causes, you can of course lose a lot of foreground in your image. If you do that well, you will be rewarded with images that show a fantastic game of blur in both the foreground and background. In that way, you can take a fabulously beautiful picture of even the simplest subject. Because the sharpness starts and ends smoothly, the large aperture is of course also applicable in practice. With some bright lenses, that transition is quite hard and abrupt, which gives a strange effect. The SIGMA 85mm F1.4 DG DN | Art is wonderfully smooth and subtle in that area, allowing you to use this sharpness gradient beautifully in your portraits and other images. In the images in which Marlies is behind the immense hood of the Rolls Royce, you see interesting elements in both the foreground and background. While they are not sharp, they still clearly hint at exactly what you are looking at, but at the same time they do not distract you. The viewing box effect that arises gives you plenty of opportunities for interesting compositions.

For those who have ever photographed with the big brother of this 85mm DG DN, you know that the lens is almost unreal. It is not without reason that the portrait lens has won all kinds of prizes and victories. Of course, the technicians at SIGMA have done everything possible to match and even exceed expectations in that area for this mirrorless edition. With success, because this 85mm F1.4 DG DN is also unprecedentedly sharp and delicate in drawing. The structure may be compact, but the technichians have nevertheless managed to build a less than fifteen lens elements. The sharpness is not only excellent in the center of the image, but also when you look further into the corners. The resolution has increased and the (micro) contrast is also at a very high level. The reproduction of details, shades and the expression of materials and skin tones is astonishing and creates lifelike images.


Corrected well
In our factory in Aizu, Japan, there are several technicians dedicated to reducing all kinds of image defects. A bright lens is, especially at full aperture, sensitive to image errors such as all kinds of different chromatic aberrations. We really tried, but this lens cannot be tempted to show weird colored edges, ghosts or other strange effects that you often find in the blur and at contrast transitions. For example, axial chromatic aberrations are excellently corrected and no trace of sagittal coma can be detected, so you can also record a twinkling starry night with this lens.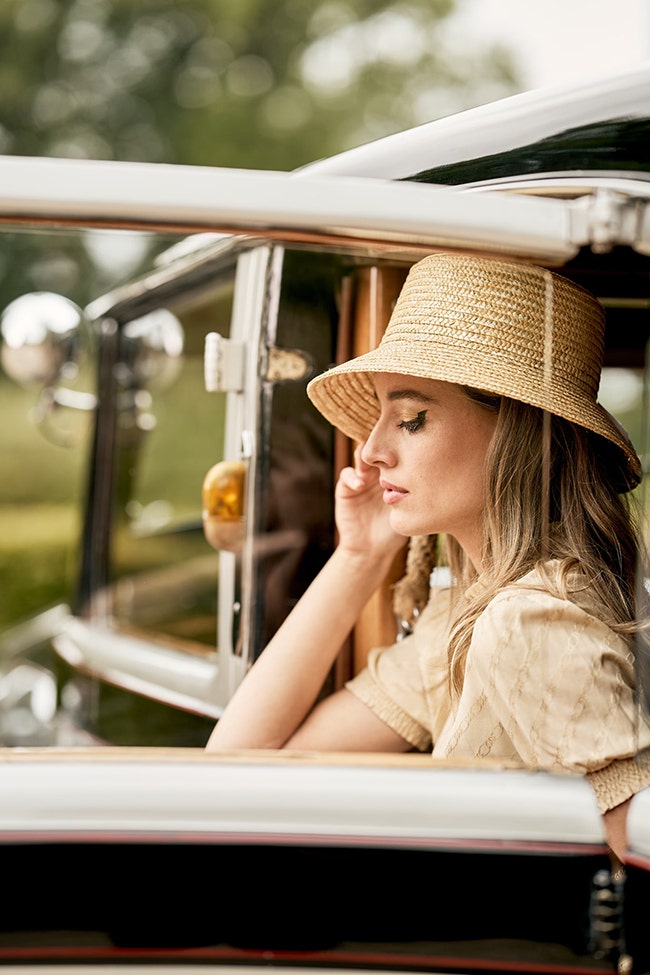 It is true that here and there, some visible pincushion distortion can occur in your images. This is logically explainable by the compact construction and the optical design, which means that certain properties cannot be corrected by the lens. When designing this lens, SIGMA has chosen to give priority to image errors that are difficult to correct in post-processing. A very understandable choice and if we look at our results, it is also a very successful one.


Superb blur
The lens therefore performs excellently in terms of optics and is extremely sharp. The blur of an image is just as important as the sharpness, something that many people sometimes forget. Just as the beautiful things in life get more shine when you also experience adversity, it is true that sharpness in an image makes an extra impression when there is also blur. That blur sometimes takes up 70 or 80% of your image, especially if you work with a large aperture opening. With a photo of a model at F1.4, sometimes only the eyes are shapr and if your model is tilted to the camera, only one eye. The rest of your image is a spectacle full of colors, shapes and lights with which you can create the most fantastic images. The blur in an image is like the most important supporting role in a movie: indispensable. It is therefore an extremely important element in making a characterful photo.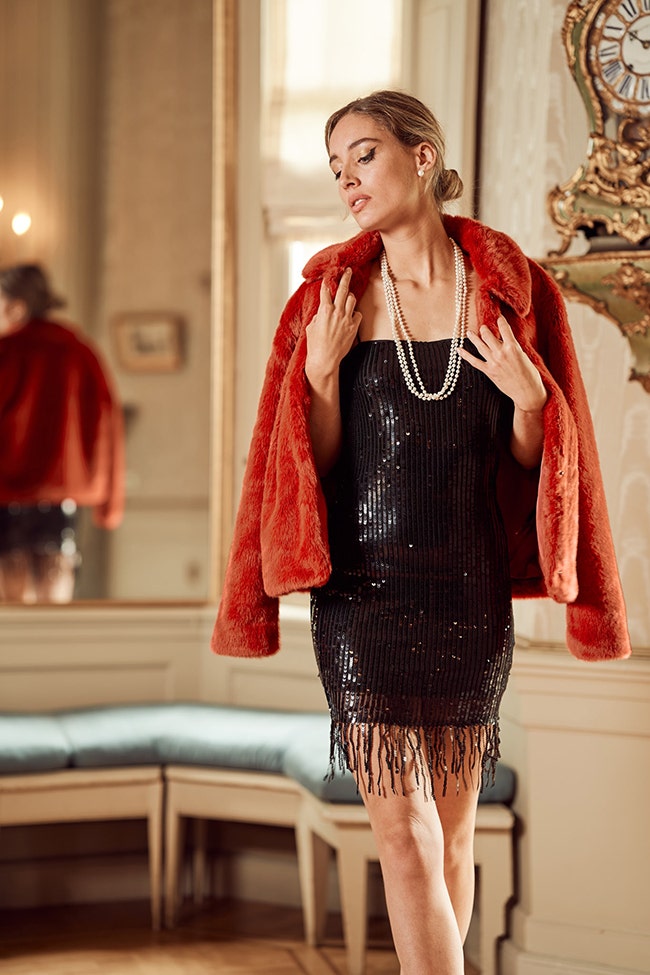 An important role in the blur is played by the bokeh spheres that arise when there are lights or reflective surfaces in that blur. Because the engineers at SIGMA have put a lot of effort into the internal construction of the lens, and in particular the eleven rounded diaphragm blades, those bokeh balls get a fantastic round and soft appearance. The more of those blades that are incorporated in a diaphragm, the better around the opening. As mentioned, this SIGMA has no fewer then eleven incorporated. That gives you the opportunity to take great images. Just look at the photo showing the "Flying Lady", the mascot atop the Rolls Royce's imposing grille. In terms of bokeh, this SIGMA gets all the thumbs up!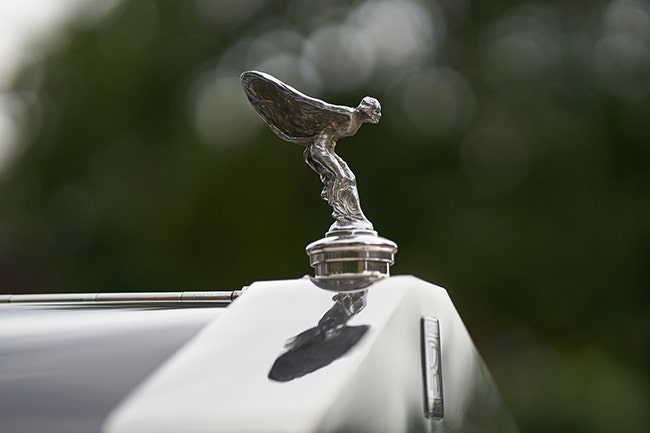 Versatile
The SIGMA 85mm F1.4 DG DN | Art may mainly be seen as a portrait lens, but you can of course take other fantastic photos with it. Close-ups of interesting details, for example, as we could find in and around our Rolls Royce. The bobbins in the doors almost come out of the picture, they are sharp and three-dimensional. The fabric expression and tactility are extremely impressive. That is a quality that you also can use optimally with portraits. This makes this a versatile lens that can be used in several areas to create inspiring images.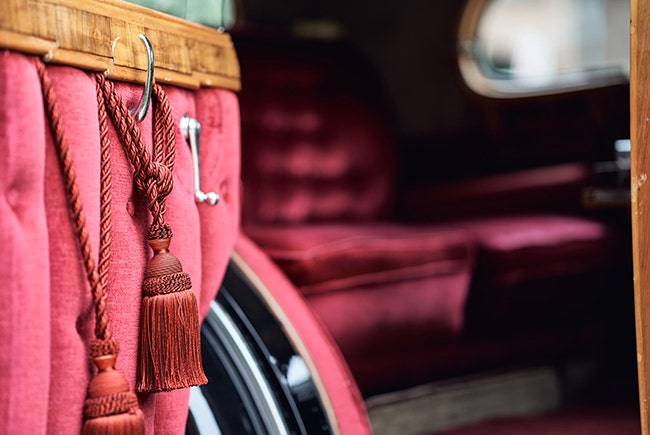 Total picture
The lens delivers optically excellent results. However, when assessing a lens, it is actually not even so much about technical specifications. Sharpness, bokeh and resolution are important, but they don't say everything. As a photographer, whether amateur or professional, you are mainly looking for a perfect overall picture. Whether a lens touches your heart is not purely to do with just the numbers or just the image quality. The qualities of a Rolls Royce cannot be deduced purely from the size of the engine, the rarity of the woodwork used or the amount of gloss in the paintwork. It is not without reason that it has long been a secret how much horsepower a Rolls Royce actually had. When asked, Rolls Royce was satisfied with an answer that was as simple as it was powerful: enough.

This is also the case with the SIGMA 85mm F1.4 DG DN | Art: practice says more than enough. During our shoot with Lady Marlies, the SIGMA convinces on all sides. This 85mm F1.4 for mirrorless cameras is a rare combination of high optical ratings, fabulous practical performance and a characterful drawing. The combination of the gossamer sharpness and the imaginative blur ensures that you can create the most beautiful images without much effort. With this surprisingly compact SIGMA 85mm F1.4 DG DN | Art, you can effortlessly give any model or subject a leading role with standing ovation.